Family Restaurants in Bristol
Published:
Categories
Bristol is a continuous hive of activity, and come rain or shine, Bristol is the place to be for a varied and eclectic day out in the South West! Recently voted the UK's friendliest city, it's no wonder that Bristol remains a happy hub for families to eat, live and play!
For now, we're focussing entirely on what Brizzol kicks the city has to offer..for your tastebuds! Keep scrolling for some seriously sweet eats, sure to please fussy eaters and foodies alike!
Best For: Sit down dining...
We The Curious (which used to be 'At Bristol'), offers freshly prepared, sustainably-sourced dishes and drinks in their award-winning café, whether you're looking for lunch break benches or work station to perch at. Expect great views of Millennium Square while you enjoy tucking in to some tasty local and organic produce, with tea and fresh coffee, juices, soft drinks and ice lollies available to order at the bar. The cafe has also recently won Gold for 'Best Fairtrade Café' in Fairtrade South West Business Awards, which helps to know that you're helping the environment when you dine there! This little rest bite provides the perfect place to charge those batteries, before setting off to explore the scientific discoveries the venue has to offer - sounds like thirsty work!
Find us: We The Curious, One Millennium Square, Anchor Rd, BS1 5DB
Call us: 01179 151 000
Visit us: Mon - Fri: 10am - 5pm | Sat - Sun: 10am - 6pm
Book us: We The Curious Website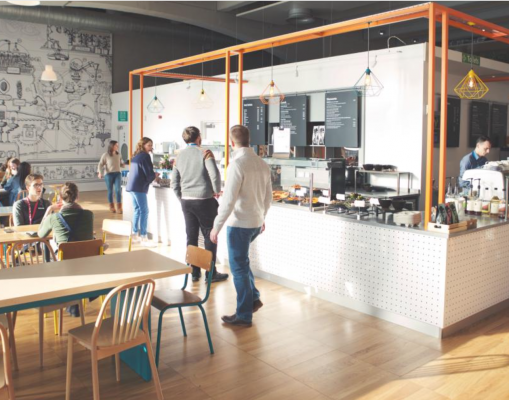 ---
Best For: Fun and games galore…
You'll be saying 'checkmate' rather than requesting the 'check, mate' in this secret spot! Playground Coffee House is a fab find for board-game fanatics and weary parents searching for a welcome entertainment to please energetic little ones! With over 150 games dotted around in the shop, entirely free to enjoy over a warming drink or spot of lunch, there's something to please a plethora of 'Fun Bobby's' - from party games, to dice and card games! While playing 'Go Fish'. expect to enjoy beautifully decorated coffee (almost too creative to drink), freshly prepared salads and sandwiches, as well as delicious danish pastries and cakes...all you've got to decide is who's kicking of Charades!
Find us: Playground Coffee House, 43-45 St Nicholas St, BS1 1TP
Call us: 01173 290 720
Visit us: Mon - Wed: 10am - 5pm | Thu - Sat: 10am - 10:45pm | Sun: 11:30am - 4:30pm
Book us: Playground Coffee House Website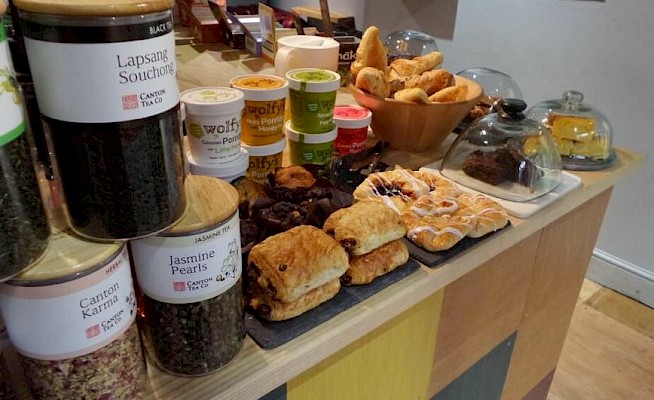 ---
Best For: Postponing brunch…
Swoon - and you will be! Voted Great Taste's 'Producer of the Year', Swoon ice cream parlour is a popular pit stop for gelato lovers. Swoon is hardly a secret either, at its prime, Park Street location it's not unusual to see a queue snaking toward town. We agree, there is a valid reason for it's destination 'check in on Facebook' status - have you seen those homemade flavours, all churned on site?! Whipped up for your pleasure in the Flavour Lab, tasty Walnut and Honey (May's guest flavour), Amarena Cherry Cheesecake, Salted Caramel and Chocolate Brownie, to name a few! Oh goodness, and have you seen those gelato cakes?! On to coffee, if it's a hit of caffeine you need, Swoon serves their speciality traditional Italian blend - Caffe Borbone Da Napoli, which is certainly worth a little queuing in our book! The big question is, one scoop or two?!
Find us: Swoon, 31a College Green, Bristol, BS1 5TB
Call us: 01179 290 093
Visit us: Mon - Sun: 10am - 10:30pm | Fri - Sat: 10am - 11pm
Book us: Swoon Website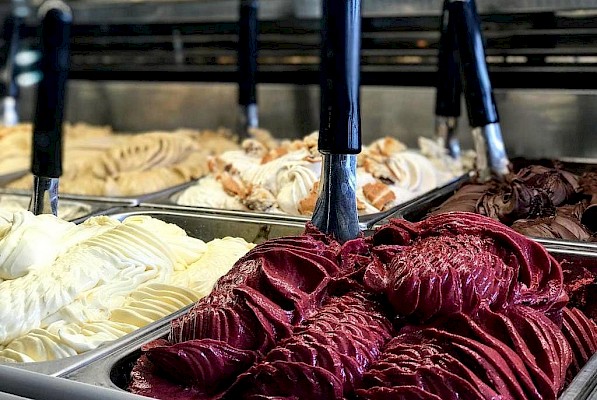 ---
Best For: An a'meow'zing time...
Hello kitty! The You&Meow cat cafe is best for big kids who love CATS - and we're not talking the musical, we mean the whiskery kitten species! You won't hear 'Memory' on the speakers at this Japanese inspired, feline-friendly cafe, it's all about the zen vibes here! Encouraging inner peace and well-being, You&Meow allows their in-house cats to roam free in the cafe, while you sit and sip in serenity, enjoying the relaxing environment and company of the cat collective! There's a host of herbal teas, barista style coffee and vegan and gluten free cakes on offer - but we're really just there for the cats! The cafe also regularly runs Serenity Sessions and Mindful Meditation classes, with the zen-master kitties on hand as aid to help you channel your inner Garfield. The cafe respectfully requests only children aged 10+ with a quiet adoration for animals may enter, which makes this a really special event for any little vet in the making!
Find us: You&Meow, 22 Denmark Street BS1 5DQ
Email us: bookings@youandmeow.co.uk
Visit us: Mon - Fri: 12pm - 7:15pm | Sat - Sun: 11am - 6:15pm | Wed: Closed for cat-nap
Book us: You&Meow Website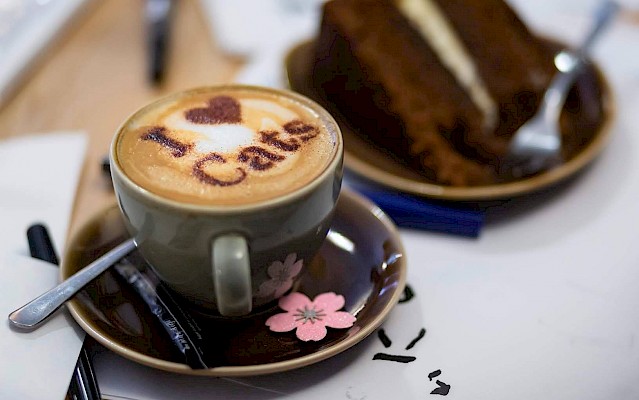 ---
Best For: Delaying dinner plans…
Mrs Potts may well be a character from Beauty and the Beast, but we've recently learned that it's also a cult status cocoa hub for chocolate lovers - and who doesn't love a bit of cake?! From chocolate brownies, blondies and gooey ice cream sandwiches to pralined pecan-topped cakes, this sweet spot is also an extra tasty option for vegans! With freshly prepared, warm dairy-free cookies and vegan hot chocolate made from coconut milk, all available to order throughout the day. The speciality blend hot chocolate is ground in house - with options from white, milk and 100%, which is dairy free and sugar free too!
Find us: Mrs Potts Chocolate House, 20 Park Street, Bristol BS1 5JA
Call us: 01179 292 727
Visit us: Mon - Sun: 9am - 8pm
Book us: Mrs Potts Chocolate House Website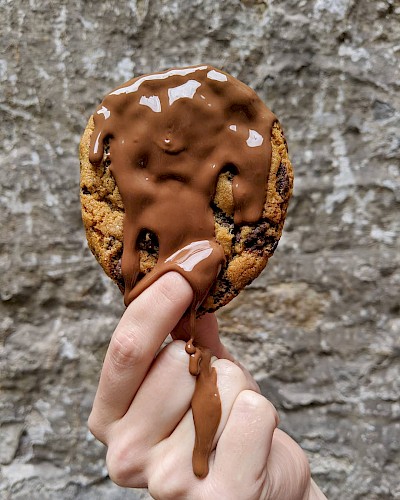 ---
Best For: Supersizing your sweet treat…
The Beehive Coffee House is certainly not for the faint-hearted! If you scroll through the cafe's Facebook page you'll soon spot the jaw-dropping creations, so impressive it's a wonder these gluttonous giants even make it to the table in one piece! The 'Freak of the Week' aka The Chocolate Magnum Shake is actually topped with a WHOLE MAGNUM on a stick! Wowsa! However, it's not all about the chocoholics here, The Beehive offers a variety of healthy fruit smoothies to kick start your day, as well as pretty pink (healthy-looking) drinks, topped with edible rose petals! We dare you to stop by for a sticky sip of something special - too good not to share on Instagram and tag us while you're there!
Find us: The Beehive Coffee House, 14 Badminton Road, BS16 6BQ
Call us: 01179 575 299
Visit us: Mon - Sat: 8:30am - 4:30pm | Sun: Closed
Book us: The Beehive Coffee House FB Page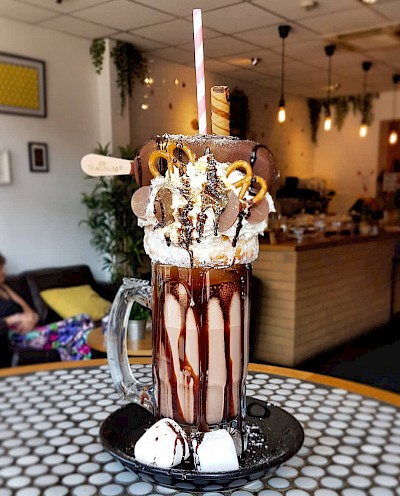 ---
That's all folks, unfortunately our next article won't be 'the best places to jog off the gelato', but we assure you it's worth the extra lb's! If you know of a great family restaurant in Bristol that we're not talking about - let us know and we'll add it - after sampling of course! Stay tuned for more of the latest goings on in Bristol, coming soon!