Ages:
All the family
Under 5s
School age
Adults
Venue:
Indoor
Cost:
Paid
Join in the fun at Clifton Observatory. Become an adventure and explore the Giants cave. Climb to the top of the tower and marvel at the amazing engineering of the Camera Obscura! Established in 1766, this iconic landmark of Bristol offers a unique viewing platform overlooking the Clifton Suspension bridge and the City of Bristol.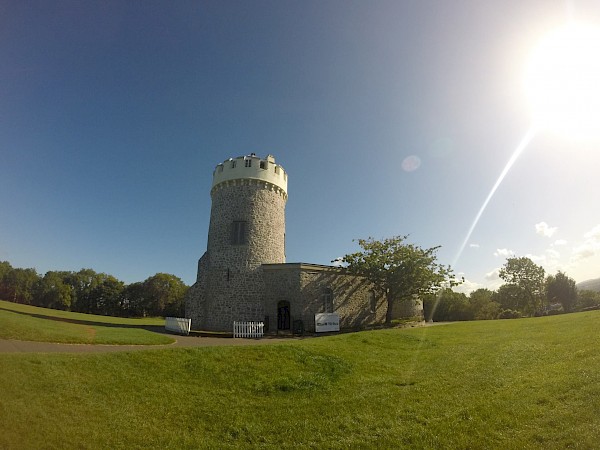 Camera Obscura & Museum
William Wests Camera Obscura is now 1 of only three working Camera Obscuras in the UK. This marvellous engineering has sat on top of Clifton Tower since 1828. Use the handle to rotate the Camera Obscura 360 degrees and see Bristol in a new light. The Camera Obscura can be described as Victorian CCTV and even now seems truly futuristic.
Discover the hidden secrets of the Clifton Observatory's history. With a vast heritage, there is much to learn about what the Observatory was used for. As you Journey to the Camera Obscura, you walk through our newly renovated museum, detailing the history of Clifton Observatory.
Giant's Cave
Ghyston's Cave, sometimes known as the Giants Cave or Foxhole is a natural cave in the limestone face of St Vincent's Rocks in the Avon Gorge. For centuries it was accessible only from the top of the steep sided Gorge, or by a stiff climb up from the base of the cliff. It can now be approached from the inside of Clifton Observatory.
Adventure down into the depths of the Avon gorge and step into the world of the giants. See the home of Bristol's infamous giants, Goram and Ghyston. The tunnel leading down to the cave is 200 feet (61m) long and the cave opens out on the cliff face, 250 feet (76m) above the Avon gorge and 90 feet (27m) below the cliff top. Look out over the Avon Gorge, the giant's cave offers breath-taking views with a truly unique perspective of the Suspension Bridge.
360 Cafe
New 360 Cafe coming this summer! Clifton Observatory is excited to announce that this summer will see the opening of our new glass café to the public all year round 7 days a week. The glass café will allow people to sit indoors and warm up with a nice cup of tea in the cold months and enjoy the rays of the sun with a cool smoothie & ice cream in the summer.
Admission Prices
Full Access Adult: £4
Giant's Cave Adult: £3
Camera Obscura Adult: £3
Full Access Child (under 14): £2.50
Giant's Cave Child (ages 4 - 14): £1.50
Camera Obscura Child (under 14): £1.50
Opening times:
Monday - Sunday, 10am - 5pm Apr - October
Monday - Sunday, 10am - 4pm Nov- March
(last entry 15 minutes before close)
For updated information visit: https://cliftonobservatory.com/
Opening Hours
| | |
| --- | --- |
| Monday | 10:00 - 17:00 |
| Tuesday | 10:00 - 17:00 |
| Wednesday | 10:00 - 17:00 |
| Thursday | 10:00 - 17:00 |
| Friday | 10:00 - 17:00 |
| Saturday | 10:00 - 17:00 |
| Sunday | 10:00 - 17:00 |
Contact details
We aim to keep the information on Bristol Rocks accurate but if you have noticed an error please let us know
Suggest an edit