Ages:
All the family
Under 5s
School age
Adults
Venue:
Indoor
Cost:
Paid
Description
We The Curious is Bristol's public hub for science, art, questions and ideas. We're a bit like an indoor festival with loads of exhibits to play with, shows to see, experiments to get stuck into and the UK's first 3D Planetarium. Our main space is less SHHH and more playful - DO touch the exhibits, DO use your phone, DO laugh out loud, bring your kids, friends, grandparents or come and escape on your own.
The Planetarium
Inside the giant silver ball you can find our 3D Planetarium. We run half hour shows guided by our team of presenters throughout the day where you can fly off through space around distant planets and ancient constellations of stars. You'll need a day ticket to add on the Planetarium or if you're over 16 you can visit our Planetarium Nights shows almost every Thursday.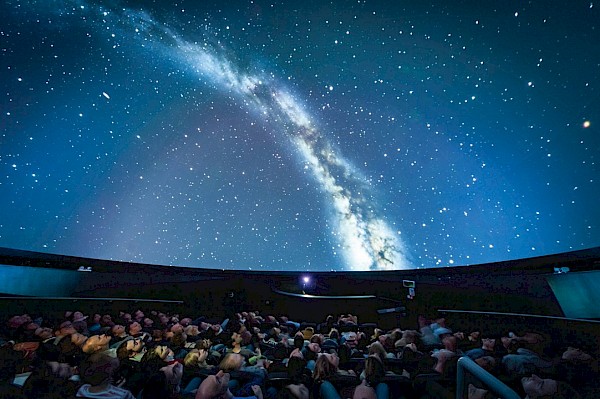 Our Mission
We're an educational charity with the aim of creating a culture of curiosity. That's because we want to break down barriers around science, art and ideas to bring people together, regardless of their interests or background. Science transforms lives and it begins with curiosity.
We The Curious is an idea and a place for everyone
We're all about asking questions, getting creative and testing things out. Science is collaborative, living and a vital part of culture. Our venue on Bristol's harbourside is a bit like an indoor festival, with all sorts of different experiences, where you can interact with exhibits and take part in experiments. It's where boundaries are removed between science, art, people and ideas.
Curiosity is the engine that drives both artistic and scientific enquiry. It's something we are all born with. It is the seed for beautiful questions that lead to deep learning and new discoveries. So we need to empower everyone to keep asking questions, and have a voice in shaping our collective futures.
For 17 years we've been 'making science accessible to all' as At-Bristol. As an educational charity we need to evolve with the world around us - as the digital landscape changes access to science, and as you ask us to be more challenging, and for everyone. So we have a new vision, to build a culture of curiosity. And you're part of it. We is you and me and everybody. Be curious, look up, peer closer, pause, connect with new people, and ask questions.
Opening hours:
Monday - Friday: 10am - 5pm | Saturday - Sunday: 10am - 6pm
Admission
Book your admission tickets online at least a day ahead of your visit and we'll automatically take 5% off the price. This discount can work alongside the group discount, so if you're booking for 3+ people you save 15% online. For a group of two adults and two children purchasing tickets with an added donation, this means a saving of nearly £8.
| TICKET TYPE | WITH DONATION | WITHOUT DONATION |
| --- | --- | --- |
| Adult (Age 16+) | £15.95 | £14.50 |
| Adult concession* | £13.75 | £12.50 |
| Child (Age 3-15) | £10.45 | £9.50 |
| Child concession* | £6.55 | £5.95 |
| Age 0-2 | FREE | FREE |
| Personal assistant | FREE | FREE |
| Members** | FREE | FREE |
*Concessions include over 60s, students, JSA/ESA and disabled people. We might ask you for ID so please have it with you.
Add a Planetarium show
We're home to the UK's only 3D Planetarium! Come and take a trip into space on your visit.
| | |
| --- | --- |
| Day time 3D show | £3.50 |
| Day time 2D show | £2.50 |
| Age 0-2 | FREE |
Open hours
| | |
| --- | --- |
| Monday | 10:00 - 17:00 |
| Tuesday | 10:00 - 17:00 |
| Wednesday | 10:00 - 17:00 |
| Thursday | 10:00 - 17:00 |
| Friday | 10:00 - 17:00 |
| Saturday | 10:00 - 18:00 |
| Sunday | 10:00 - 18:00 |